A

bolder

vision

for

the

future
Introducing the next chapter in Constant's development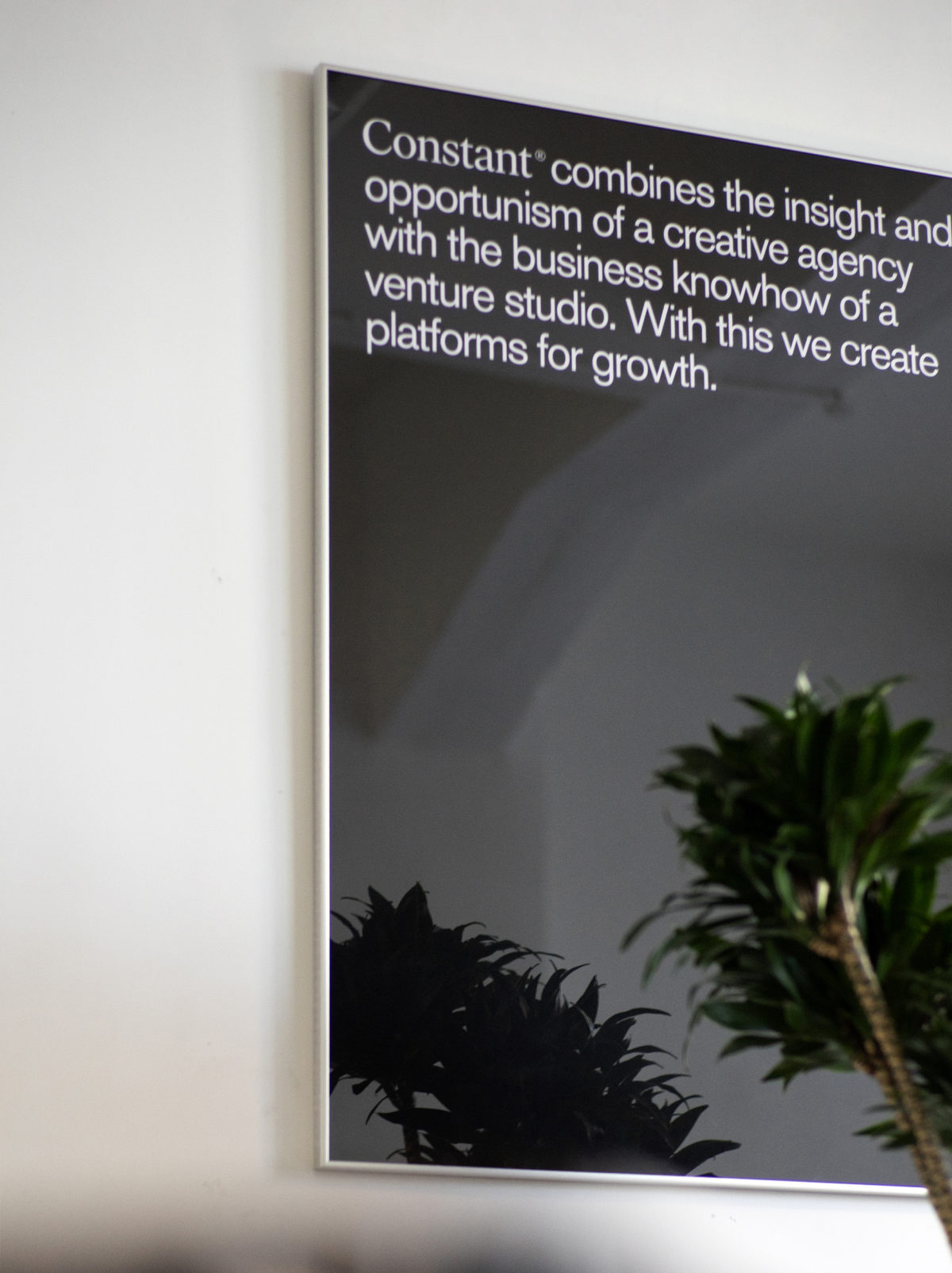 A bolder vision for the future
8 min read
In 2012 we started the agency with a B&O speaker (still standing) and a pack of beers (replaced by a permanent tap in 2016). We've met incredible talent along the way and have been fortunate to have an enviable roster of clients who trusted our vision. As we begin The Next Chapter, we proudly look back on a journey that shaped our vision for the future. 
New agencies are appearing on a daily basis, often with bolder designs or a more fresh approach to brand development. We were there once. Shouting about real storytelling and ongoing content development, in an industry otherwise focused on campaign spikes and award winning ideas. As we write in our case study for New Balance: "We pioneered authentic storytelling before it was a thing."
But times have changed and what we believed in then has largely become reality. We still advocate the same principles, but there's another dimension to our work that has become more evident over the years. 
At the end of the day, most clients are willing to take a chance with the new kids on the block for smaller projects, and we too were fortunate to work with some really prominent brand names. But looking back, we can proudly say that although we were fresh and forward looking, the work we did then pointed towards the vision we are announcing today.
As an agency partner, we have never just delivered for the sake of it. Even when simple, executional briefs came in, we demanded to understand the context in depth and challenged the brief if we felt it was needed. We thought longterm about the brand's overall development, and whether this would be a good move for the overall business platform. We asked a lot of questions. And in a fast paced market like Hong Kong, this has sometimes been a challenge. But the times we're in now proves that a strong foundation and DNA is what guides brands towards the right decisions. 
"As an agency partner, we have never just delivered for the sake of it. Even when simple, executional briefs came in, we demanded to understand the context in depth and challenged the brief if we felt it was needed."
The strategic mindset was embedded in the agency from the early days, and our gradual progression towards closer client partnerships and more consultancy work therefore feels natural. Over the last 2-3 years, our work has become more foundational, spanning deep consumer research, new venture platforms, brand shifts and transformation. We have moved up the ladder, not just because we demanded to do so, but because we have built the trust that is needed when making big decisions – together. 
So what we're announcing today doesn't feel like a big change internally. But it is the first time we formally put words and structure to our offering: 
Constant is a full service brand consultancy and venture studio specialized in the consumer lifestyle segment. We work with founders and bold brands to build platforms for growth, rooted in real customer insights. 
Words are words and the proof is in the pudding. We will probably never be good at bragging, but our confidence has grown with our achievements. Working with people from the seed of an idea to established powerhouses looking to build relevance in the future, our ability to merge business acumen with creative opportunism has given birth to some, in our humble opinion, groundbreaking work. 
Making 140 year old company Eu Yan Sang relevant for a new generation; giving Nikon a new platform to reach their audience; setting a new standard for the adult toys industry with AVE; imagining the future of meditation with BIRD. We have touched, transformed and launched more than 40 brands over the past 8 years. We have walked the walk.
And what we have learned along the way is that successful businesses need to balance logic and magic equally well; mix linear and non-linear thinking to achieve remarkable brands that people can both trust and love. You need to get both right to survive in a hugely competitive global market. There are no shortcuts. 
Most agencies can design a decent logo and get inspired by Pinterest to create beautiful visuals.  You could even get a lot of that work done fast and cheap using the online crowds. Influencers are available 24 hours a day and social media platform allow anyone to reach an audience. The barrier to entry has been lowered, but the barrier to success has undoubtly been raised.  Standing out and becoming relevant in a time where 10 new businesses hit crowdfunding sites daily is difficult. 
On the other end of the spectra, management consultancies start investing in creative agencies. Almost no business decision is made without influencing customer touchpoints or communications, which directly (or indirectly) defines the brand. We come from a creative starting point but have built more research and business logic into our offering and will continue to do so in the coming years.
The convergence of disciplines is inevitable. This is our future.
A new look, designed in Copenhagen
With the announcement today comes a brand new look for Constant. We wanted to set an open playing field for all the vibrant work we have outputted, but give equal attention to the often overlooked process and thinking. We worked with Copenhagen-based design firm Norgram (good friends of the house) to set a framework that would allow a rich, but organised content experience. The new THINK section will merge internal thought pieces with trend studies and guest posts. We have launched the first of many prominent media partnerships with Maekan, imagining the future in a fictional universe.
Altogether we hope the new site gives more depth and context to where we believe the world is moving and what that means for brands.
And that's it. Welcome to the new Constant. We're more excited for the future than ever and look forward to meeting partners, clients and talents in our offices in Hong Kong and Copenhagen.
The tap is open.  
Next
Courtship, crochet and consumer behaviour