What the team have been watching, listening to, and reading over the past month.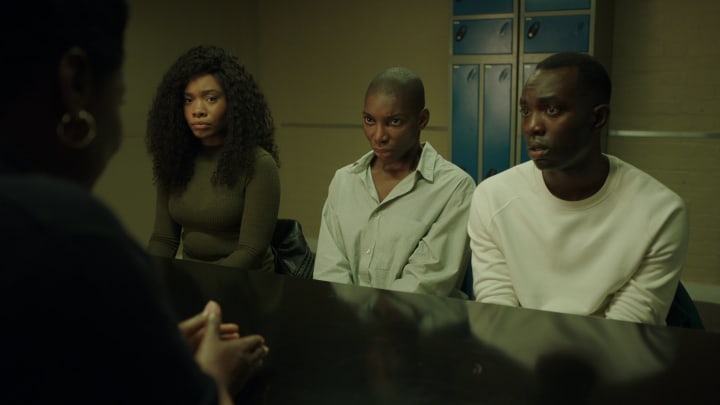 Monthly Roundup – July
5 min read
At the end of each month, our team catches up over some beers, to share what we have listened to, seen, experienced, read and watched.
What we watched
BBC Drama I May Destroy You, streaming on iplayer and HBO. Written, directed by and starring Micahela Coel, it's a dark drama/comedy set in London about consent. As Adele put it "It's wholesome, uncomfortable, hilarious but terribly sad and then awkward…. it makes you cough a bit for no reason and also makes you put the kettle on, for no reason. You might pretend you need a pee and then you get a bit itchy, then it makes you ask your girls things you haven't before".
Perfect Blue a Japanese animated thriller, with beautiful art direction, editing and camera movement, switching between reality, imagination and dreams. The story inspired the Hollywood film Black Swan; an ex popstar becomes a victim of stalking and begins to lose their grip on reality.
Three Identical Strangers, a 2018 documentary following the bizarre but true story of identical triplets who were separated at birth, only to discover on another by chance in their late teenage years. As the boys discover that they have a lot in common, from smoking the same brand of cigarettes to identical mannerisms, the question of 'Nature vs Nurture' is brought up only to reveal that they were in fact part of an undisclosed scientific study of the development of genetically identical siblings raised in differing socio-economic circumstances.
Tell Me Who I Am, another documentary featuring identical brothers Alex and Marcus who try to navigate their relationship with each other, their past and their present. Alex woke up from a coma after a motorcycle accident and could remember nothing but his twin brother Marcus. Upon realising Alex had lost all memories of the past 18 years, Marcus saw an opportunity to repaint their traumatic and abusive childhood. A beautiful film that plays out like a psychological thriller.
What we listened to
How I Built This with Guy Raz : Impossible Foods 
A lengthy interview with founder of Impossible Foods, Pat Brown, who left his dream job at the 'retirement' age of 60 and found a business that would end up being valued at nearly $4 Billion.
What we read
New York Times magazine wrote a lengthy but insightful profile piece on Michaela Cole, covering her early years as a performer and writer and how she turned down a $1M offer from Netflix for I May Destroy You in order to retain her rights .
The timing of Pandora Sykes article Why Boredom is Good For You for Grazia UK is fitting as we experience our third wave of the pandemic in Hong Kong. When we worked on the strategy and branding work for Bird Meditation, as a team we became very aware of the meditative benefits of not having to constantly be on the go and enjoying stillness.
After listening to BROKEN: Seeking Justice, and watching the Netflix series Filthy Rich, a lot has been covered in regards to convicted sex offender Jeffrey Epstein, but his right-hand woman Ghislaine Maxwell has evaded the public eye since 2016 until her arrest in New Hampshire on 2 July. In the recent issue of Vanity Fair, journalist Mark Seal covers her years away in the article 'Inside Ghislaine Maxwells Life on the Lam'.
Dazed Media's Report on the Future of Youth Culture: The Era of Monomass. Drawing on insights from over 3500 readers worldwide, the report offers some light on what to expect from the next generation when it comes to culture, fashion, and consumerism as a whole. Some key findings that we found particularly interesting:
70% of people think that having a point of view is what makes a brand influential – compared to just 14% who say creating the latest product is what marks influence.
As a champion of Asian brands going global, we're excited to see that cross cultural conversations are on the rise.
It's the end of 'The Influencer' as we know it; as audiences need to connect with something real, which cuts through the clutter and counteracts the lies we've been fed, it's no wonder that cancel culture has become a complex and unavoidable phenomenon.
Next
Internet Rage Is The New Epidemic